About Us
On-site Custom Software has over 20 years of experience in IT providing both hardware and software support.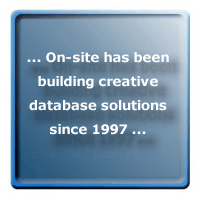 We've been building creative database solutions for small business since 1997.

Our PC-based applications are built on MS access and our online applications use a variety of different technologies. Mostly, we specialize in PHP and MySQL.




Contact
Questions?
We respond to all support requests within 24 hours.
Office hours are 8:30am to 4:30pm (Pacific Time), Monday to Friday.
If you have not received a response, please check that your message or subject line does not contain any words which may cause your message to be junked (some examples are: discounts, special offers, medications, popular brand names).