Jan 1, 2019 - Support Discontinued
After 20 years, we have decided to discontinue producing a PC-based version of our application. Our new cloud-based version is much faster, more reliable, and will continue to develop to meet the needs of our clients. View a demo here.
Download a Free Trial of CleverCat!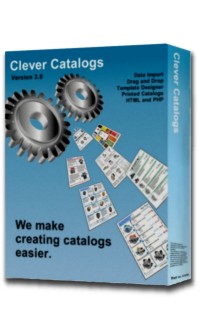 The free trial is fully functioning and allows up to 30 uses but prints a reminder message across the photos. An activation key is required to remove the reminder and continue using the software. Any data you enter during the trial period will remain after activation.
We also offer a cloud-based version of our software which is faster and has many more features.
Find more information at:
www.clevercatalogs.com

CleverCat Installation Instructions - Version 3.2
1. Download and Save the file which is closest to your configuration of Windows and MS Office.
2. Run Setup.exe (2003), Setup2.exe (2010), Setup3.exe (2013) or Setup2016.exe (2016).
3. When prompted, choose the default options and installation folder.
4. Read the short Tutorial - Getting Started or Watch the video - 15 minutes

Following these instructions, you should be able to create your first catalog in less than one hour.
CleverCat uses the Microsoft Access Runtime. Select the Runtime Version which is closest to the versions of Windows and Office installed on your PC. Click Here for 64-bit versions.
Windows Versions
Office Version
2016 Runtime
Windows 10
Windows 8, Windows 7
Office 2016
(32-bit only)
Windows Versions
Office Version
2013 Runtime
Windows 10
Windows 8, Windows 7
Office 2013
(32-bit only)
Windows Versions
Office Version
2010 Runtime
Windows 8, Windows 7

Office 2010
Office 2007
(32-bit only)
Windows Versions
Office Version
2003 Runtime
Windows 8, Windows 7
Windows Vista, Windows XP
All Versions of Office
(32-bit or 64-bit)
| | | |
| --- | --- | --- |
| CleverCat Online | Office Version | Demo |
| All versions of Windows | Not Required | |
Compatibility and Service Packs Most PCs will be able to use a runtime which is different from their version of Office but you should make sure your version of Office is fully patched.
| | |
| --- | --- |
| | An error message on Startup may occur if your PC does not have the latest Office Service Packs installed. Visit the Microsoft Office Update site to download the latest Service Packs. |
The 2003 Runtime can import/export Excel *.xls files. The newer versions use Excel *.xlsx files but this is only important if you are using the optional Data Mapping function and all versions of Excel can convert their files to the other format.
---
Important Update Information
Updating
Current build date - July 21, 2015 - Version 3.2.10
If you are updating a 2003 Runtime version (from version 2.1 to 2.6 for example), do not run Setup.exe. This will replace your configuration files. Instead, download and run CatUpdate.exe. This will replace only the program files and leave your configuration and data files intact.
CatUpdate.exe - 2003
If you are updating a 2010 or 2013 Runtime version, running Setup2.exe or Setup3.exe again will only replace the main program files. Your data and configuration files will not be affected. However, as these are large files, it can be faster to simply download and replace just the main program file. You can get the 2010 or 2013 main program file using these links:
catalog.accde - 2010 32-bit
catalog.accde - 2013 32-bit

Upgrading
If you are upgrading, from a 2003 Runtime to a 2010 or 2013 Runtime, download and run Setup2.exe or Setup3.exe as described above.
When you first re-start CleverCat, you will need to open the Upgrade form (screenshot below), click the Upgrade to Version 3 button and follow the instruction to convert your original *.mdb data file to the newer *.accdb format.

All Upgrades (and some Updates) require changes to the database structure. Even if you are only updating the newest version of the same Runtime, open the data file using the Find button on the Main Menu and then open the Upgrade form. Click the Add Data Fields button to upgrade your data file.